A smart home security system is a highly sophisticated way to keep your family and home safe. Read on! as we take you to a myriad aspects of what it takes to have a smart home with simple tweaks and add-ons to your current home.

You no longer need to have your home wired to have an automated home security system. With the onset of wireless home automation, products are becoming more affordable and easier to install.

You can even take your smart home technology and security system with you when you move if you live in a rental property and if you own then it will give a huge increase of home value.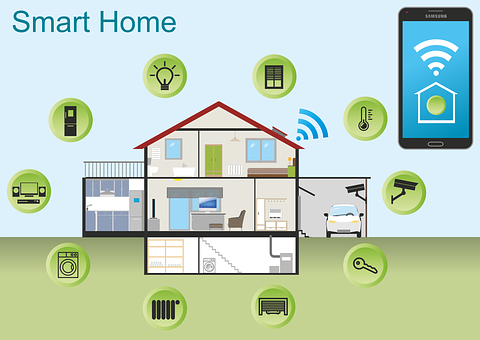 Smart home security systems can provide a myriad of different options depending on your specific needs. You can have a complete home automation alarm system with high end IP security cameras or you can just have door and window sensors, motion sensors, and a fire alarm; whatever fits your needs.
Imagine coming home from work and being able to enter your driveway and having your driveway and garage lit at the touch of a button on your key chain.

With the same fob you can shut off the home automation alarm system. Then touch your finger on your fingerprint reader the door opens and a voice welcomes you home by name. You enter a well lit home with your curtains drawn all preset to activate at dusk.

After entering you touch a button on your touchscreen control pad and all the windows and doors lock. You then turn on your TV, cue up your security cameras and review the video recorded during the day which, by the way, you can check from the office on your PC during the day.

All these possibilities and any other scenario can be had using your smart home security system.
The basic products to start your Smart Home could be:
With new technology, you can also program your smart home security system to monitor your fire, smoke, carbon dioxide, and gas detectors.

If for any reason these alarms should be triggered your smart home technology and security system can sound a home automation alarm that will then call the fire department, activate the lights, shut down the HVAC fans that might fan the fire and release the locks on the windows and doors so that the family can exit.

In the circumstance that your home has a voice system it can even give instructions for exiting the home.

It will also flash the front porch lights making it easier for the fire department to find your home. If the alarms should be triggered during the day your system will call you also.
Home Network Security: A Must in Today's World.
Home network security, especially wireless networks, is one the most important but often most overlooked aspects of home security. If your home computers are accessible then all your personal information is too.

Securing your wireless network is essential because unlike wired networks, wireless signals are broadcast over a distance and readily available to piggybacking and hijackers.
More about Home Network Security. Now you can find affordable monitored home security such as ADT security and GE Security to protect your home and belongings with a state of the art web application systems and the most advanced and technological equipment that are almost seem less with a slick designs.

These brands are much respected companies that provide 24/7 uninterrupted monitoring services and guarantee satisfaction for your benefit and peace of mind.
Home Security Products
There are new web-enabled home monitored security systems that let you keep an eye close you your place even when you are away. Specially in today's society where there are more than 1 million homes that unwanted intruders pay a visit whether you head off on vacation or just to work.
With the use of traditional monitored home alarm systems and security systems in general, people tend to forget to activate it when they leave home and this is like not having a home security system, but now the alarm companies are being working on the web-capable alarm systems that you can activate it, check it and even browse what it is happening at your place at any time, with this technology and the new web-capable phone it makes it really easy to operate even if you do not have access to the web from a computer.
Read more and learn about home security products and devices.

Fortunately, counting with a powerhouse online shopping store such as amazon, acquiring these smart devices is a very easy thing to do for those looking to upgrade and update home living space ease.

Be part of a safer community when you add a smart home security system by simply adding the ever more affordable smart devices that come ready to plug and play just out of the box.